FURNITURE FROM NEXUS INTERIORS BRINGS TO LIFE THE UNIVERSITY OF MELBOURNE'S NEW DENTAL CLINIC AND NEWLY REFURBISHED DENTAL SCHOOL.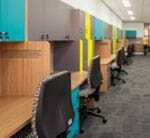 Facilitating the education and development of Australia's next generation of dentists, Nexus Interiors was brought in to supply the loose furniture for University of Melbourne's new Dental Clinic and newly refurbished Dental School. In fitting out these educational and practical environments, Nexus Interiors fulfilled the vision of the architects, HBO+EMTB, to create a space that would cater for Australia's next wave of highly qualified dentists. The Melbourne Dental Clinic was established to provide a clinical training centre and practical facilities for the Melbourne Dental School. Here HBO+EMTB was brought on to design the fit-out of two centres: the brand new Melbourne Dental Clinic, and the newly refurbished Melbourne Dental School. HBO+EMTB awarded the entire loose furniture package to Melbourne-based furniture supplier, Nexus Interiors. This entailed the supply of furniture for new administration facilities, shared graduate spaces and flexible training and conference facilities. Nexus also supplied the furniture for the new communal breakout and amenities area – a space in which budding dentists can meet and collaborate. Their loose furniture package included workstations, mobile pedestals, tambour storage cabinets, meeting tables, seminar chairs, breakout chairs and tables, meeting chairs, task chairs and custom built lockers. HBO+EMTB are renowned for their work on major structures including the National Gallery of Australia and the High Court.
"Their choice of Nexus Interiors as the sole furniture providers on this high profile project is "Their choice of Nexus Interiors as the sole furniture providers on this high profile project is testament to the reputation of Nexus in the architecture and design community – reliable, client-focused and consistent," says Nexus Interiors General Manager, Sam Papargiris. "The service we provided was on "The service we provided was on budget and ergonomically sound, and met the specific time and site requirements," he says. Most especially, all products met the high design standards of the University of Melbourne. Nexus synchronised with HBO+EMTB and builder Harris HMC on the project and the outcome exceeded the expectations of all parties – most importantly, those of the client.